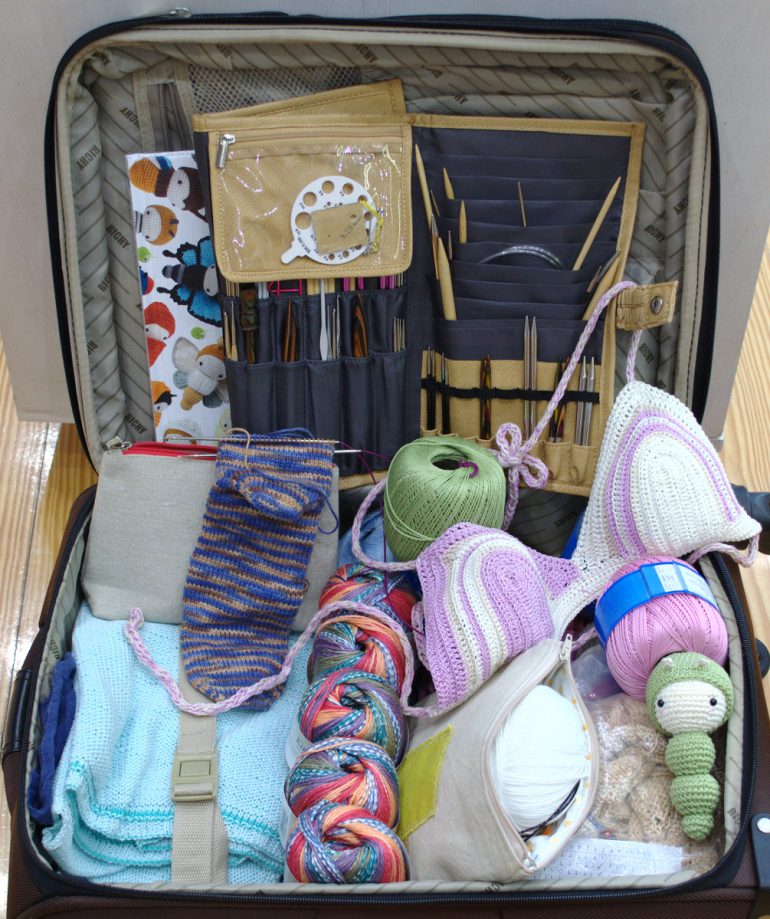 So, the best time has come, the holiday season is here and we are ready (or perhaps not?) to enjoy it. We have made all the necessary preparations (surely?) and we are ready to leave the city.
Hmm, let me think for a minute…have I thought all of them well? Of course, of course, I will be in my favorite place for several days, I will rest, fill my batteries, I will swim and enjoy the sea or enjoy the mountain and walks, relax and knit. What; What will I knit/crochet? Oh, God, I do not have enough of this yarn! And what if I run out and I cannot get more from the same (cold sweat)? Where are my notes and my stitch markers? And where is my new book with the amigurumi patterns I got for the holidays? And where…and what if… and?
Stay cool, take a deep breath, concentrate and let's see what preparations must be made for our vacation so that we do not miss anything and spend a perfect and enjoyable holiday with our favorite activity – knitting/crocheting.
We have prepared a list of tips, thoughts and suggestions below to help you prepare for your holiday in the most appropriate way.
1. Organize your desires and needs
It is the first and most decisive step for the next to follow. Here your call is to decide what projects are to be taken with you on your holiday. Whether it's a work in progress (WIP) and you want to keep up with it or it's a new project that you will start on your vacation, be sure to treat it as a cooking recipe: make sure it's what you want, check that you have all the materials and which ones are missing and when and where to get them from, make sure you have everything you need to finish you project. Of course, make sure that you take with you more than one projects, all of them with different difficulty level. This way you have plenty to keep you going and plenty of choice depending on what your day is likely to bring. By making an easy project you can relax or be more passionate choosing a more demanding one, depending on your mood and time. It would be good at this point to be a little more careful, I am referring to the more "fanatics" of knitting/crocheting, since great expectations can "overload" our holiday plans (I try it myself, believe me, but I never make it! Weird, isn't it?). We want to have a relaxed holiday with…lots of knitting/crocheting (ha, ha, I said, I'm trying it!).
2. Prepare your materials correctly
Take with you a pouch of "first aid kit for knitting/crocheting" with all the necessary general purpose accessories and notions you could possibly need, such as: cables for interchangeable needles, stitch markers, scissors, counters, needle view sizer etc.. Check and confirm the quantities of yarns and colors you want to use in your projects, having predicted for a little more so you will not go short. Confirm the types and sizes of needles and hooks that you will need, and since they do not get a lot of space, take with you some extra sizes that may be needed as an alternative. Make sure you have all the instructions and patterns or notes you may need for your projects. It's a huge disappointment not to be able to finish a project and break your head on your vacation while you could have taken your notes or your favorite book together.
3. Take any restrictions and obstacles into consideration
Where, when, how and why you are heading to, certain destination, will define most of your decisions and thoughts as we have previously mentioned. For example, if you plan to spend your holiday on a mountain, you may take with you this semi-finished lace wool shawl. While spending your vacation on the beach will be most likely to open your appetite for a cotton crocheted bag or bikini that every girl will desire. The season of the year and the temperature expected at your destination will also affect your choices. Regarding now how you plan to travel and whether you want to knit/crochet during your trip, it's a big issue, especially if you travel by plane. While knitting is generally allowed, restrictions may apply to specific airlines or destinations, so it is good to be informed beforehand to be prepared and avoid any surprises. For example, metal single pointed needles or DPNs in flight may be forbidden, but circular wooden needles may not. I would also like to stress your attention to the supply of materials you may need, since due to the reason that many of the stores may be closed at the same time, you should have shopped any necessary knitting/crocheting supplies and yarns a lot earlier. Finally, do not forget why you go where you go. Take only what is necessary to have everything in balance. Do not be stingy and miss essential supplies, nor do you get overstuffed.
4. Picture your choices
Yes, it sounds stupid, but it works and works properly. Close your eyes and make the most of the picture of all this preparation and embed it into your holiday program. Simply imagine your holiday with knitting/crocheting in it, exactly as you have prepared it. If you think that something has to change, go back to the point where you think something needs to be changed, do it and come back to the new image again. Everything is fine now; Perfect, you are now ready for the last step of this beautiful preparation.
5. Relax, activate your good, positive mood and enjoy it!
Relax, you have acted well and you have been properly prepared to enjoy your holidays and your knitting/crocheting hobby. Take along your positive energy and your good mood and you are ready for the best holidays of your life. Oh, and if you missed something, it doesn't matter, you will figure it out. Besides, power and magic are in your hands and only in them!
Of course, do not forget to take with you your favorite knitted/crocheted garments to wear and make sure to leave a little space in your luggage in case you find some special yarn on your holiday to buy as a memento!
Enjoy your holidays and your knitting/crocheting!
P.S.: We would love to hear how you spend your holidays and what you knitted/crocheted and of course it would be great to share any additional preparation tips from your own experience.